As a busy Tokyo web agency we manage a lot of projects, and at any given time can have 4-5 in progress at once. Tracking and managing these presents some difficulty, obviously, and over the years we've looked at a lot of tools for project management.
We tried using Microsoft Project off-and-on over the years, but always found it wanting. Although the features evolved very little, Micro$oft nonetheless felt justified in increasing the price year after year. Now even the Standard version costs over $800 here in Japan, and it's still just a standalone, bloated MS app. No thanks.
There are a lot of web-based applications out there, so many, in fact, that you could spend days just listing them all. We've already been through that (more than once), and it was only recently that we found a tool that brings together all of the features we've been looking for at an attractive price. The product is called SmartSheet, and we love it.
What do you get with SmartSheet?
Fully web-based. Access project plans from anywhere.
Close integration with Google Apps.
Works great on an iPad.
Easy sharing and collaboration.
Gantt and Calendar views.
Publish to iCal and Google Calendar.
Export to MS Project, PDF, Excel, PNG, Google Spreadsheet.
Inline discussions.
Alerts.
But best of al, it just works. And it looks great. Here is a view of the Gantt display: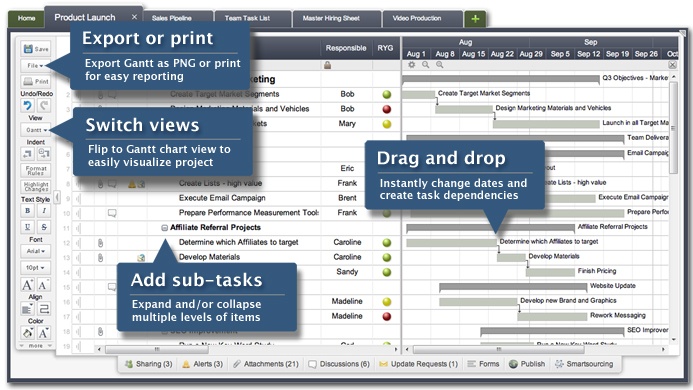 And being out and about doesn't mean you have to leave your project data behind. SmartSheet works on lots of mobile devices as well.
What the app might lack in high-end features such as resource leveling it makes up for in speed, ease-of-use, data portability and looks. We manage all of our projects with it now and couldn't be happier.
You can sign up for a free 30-day trial on the Smartsheet website or add it to your Google Apps via the Google Apps Marketplace.