Australia Property Incorporated is a new venture by Tokyo's Arena KK created with the objective of offering assistance to overseas investors wanting to enter the Australian market. API assists in every step of the process of buying Australian property to save it's clients both time and money and help them to make a wise investment for the future.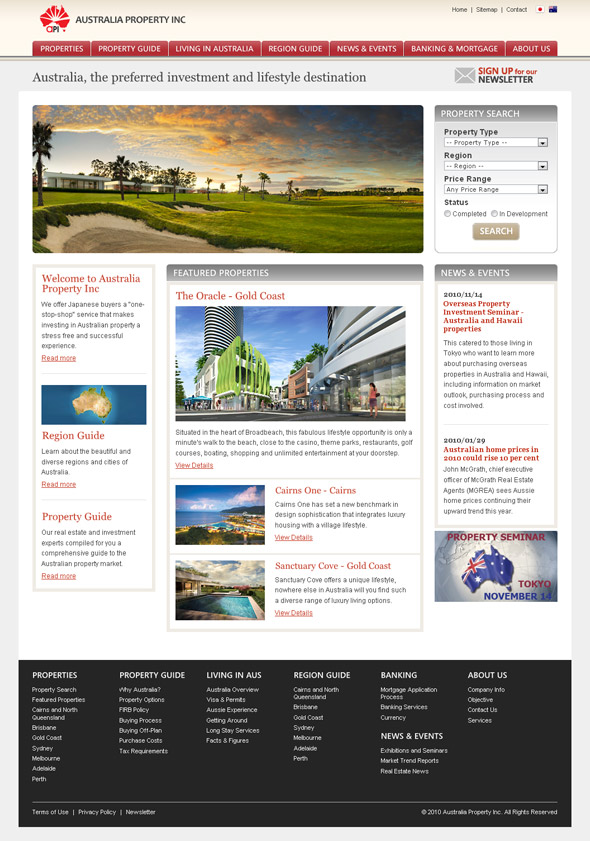 The new website was completely designed and developed by Netwise and incorporates the following features and functionality:
Properties Manager
Properties are managed in the CMS using a customized property manager. Property data is stored in a database to facilitate ease of searching and a wide variety of display and presentation formats.
Event Manager
Information on events such as exhibitions and seminars are managed via the CMS and will be displayed in the site as future (coming) and previous events.
Multilingual
The site offers content in both English and Japanese
Page Content Manager
All page content can be edited in the CMS in both English and Japanese
Search
All website content is searchable via either global site search (page and article content) or inline search form (properties, events).
Mailing List
A mailing list function with newsletter composition and delivery, as well as subscription management functions.
And because it's a Netwise site it also looks and works great. With it's quick and easy search function, richly-detailed property pages, and high level of usability the Australia Property Inc. website is a joy to look at and use.