WANTED: New PM App

YOU: web-based, quick, attractive, and fun to spend time with. Your smooth features shine and you have a love for productivity.
ME: young, active creative agency languishing in a dead-end relationship, looking for the app of my dreams with whom to share my days (and maybe some evenings, too, rowrrr).
---
Here at Netwise we're a distributed team, with offices in Portland, Tokyo, and Cebu, which means using an online collaboration tool is pretty much a given. Over the years we've used a number of tools, starting with OpenAir (now part of NetSuite) and then moving over to Jira, a feature-rich and powerful issue-tracking system. We soon outgrew Jira and moved two years ago to an application called LiquidPlanner.
LiquidPlanner has a lot going for it, and includes some functionality which is useful and well-suited to the work we do. You can forward email to the system as tasks, quickly and easily track time on multiple projects, share files and links, assign tasks to other team members, set deadlines and dependencies, create custom fields, assign billing rates, etc. You can also open it up to clients via a restricted-access client portal. Predictably, there are also native apps for iOS and Android.
Many of the things you want and need to have in an online collaboration and project management system are there. However, the longer we used it one thing became clear: many other features we need in one are simply not available, or are there but poorly implemented. Some examples:
The Gantt/Schedule View
One of the things which makes LiquidPlanner unique is its auto-scheduling feature, which uses a combination of task priority and remaining time estimates to dynamically create schedules. Sounds great, eh? No more need to constantly review and adjust Gantt charts, you can let the system to it for you. What's not to like?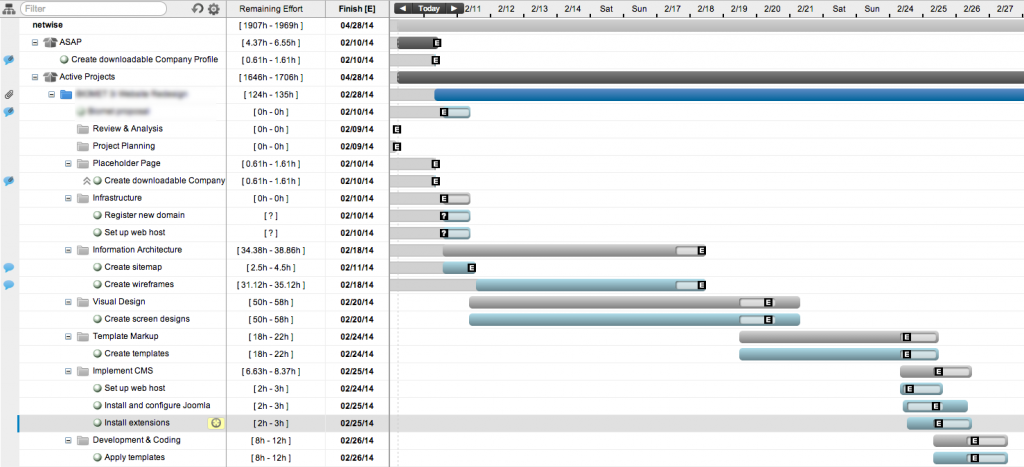 In principle it sounds great, but in practice? Not so useful after all. The main issue is that you can't simply move things around or adjust durations in the Gantt like you can with many other apps. You are required to essentially leave scheduling up to the system and its scheduling engine. Over time this has, for us, come to seem like more of a shortcoming than a feature.
Sure, you can use some of the detailed task settings (deadline, delay-until, on-hold, remaining time, etc.) or use packaging and prioritization to get some control over the schedules, but doing so involves a lot of operational overhead. In our case, people simply don't want to bother with all the fiddling about necessary to have the schedule view actual become meaningful. As a result LiquidPlanner for us has been used much more like a simple to-do list, and a very expensive one at that.
Another issue is that LP has trouble handling concurrent tasks, and is built from the ground up to assume that one task has to finish before you can move on to the next. There may be companies that work that way, but we don't, and this has made LP a poor choice for us. I did see that they have just released a daily limit feature to address this, but for us I'm afraid it's too little too late.
 Resource Allocation & Management
Presumably you can use the schedule to identify periods of low utilization for team members and schedule work based on these, but for the reasons above this is just not possible. The schedule drives the Workload view, and with it continuously auto-scheduling to fill in team members' time with assigned tasks, you never get a good sense of possible low-utilization periods anyway.
Reports
LP has an extensive range of "analytics" reports you can run, but in two years of using the system I have yet to find even one that I rely on or return to again and again. A lot of development time has clearly been invested in developing the reports, but not nearly enough time has been spent on Information Design. In some cases the reports are simply incomprehensible, and in others–such as the Date Drift report below–not particularly useful.
At any rate, we suddenly grew quite busy at the beginning of the year, and I realized we had a tool that simply couldn't answer some of the most important questions to which we needed answers: which designer can we assign to this project? What about this other one starting a week later? Which developers are free in the first three weeks of March? Not having answers to these questions was keeping me up at night, and so I decided to look for something else.
Awash in Apps
There are a lot of project management apps out there today, with new ones coming online all the time. I went through a similar process of reviewing apps two years ago (with us at that time choosing LiquidPlanner) but the field has grown even more rich and diverse since then. Today I'd like to share with you some of my thoughts on a few of the apps we shortlisted as part of our review. Here they are in no particular order.
Wrike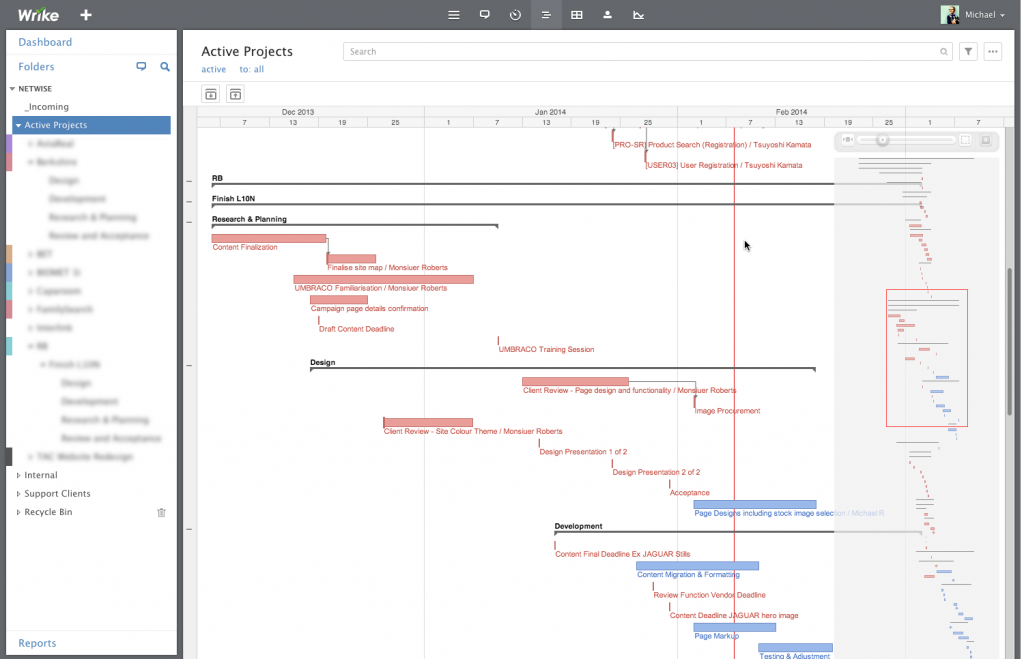 Wrike was actually at the top of the list for a while. It's simple and quick and well-conceived. It has a great interactive Gantt chart and a resource allocation view which makes it easy to see who is busy (or not) and when, across a single project or all projects. There are not a lot of extras, but all of the basic functionality we wanted is in there and it's very quick and light. The mobile app is great as well. All this for USD 99/month and you have quite a compelling offering.
So why didn't we choose Wrike? First, the pre-sales experience was, to say the least, underwhelming . I typically waited 2-3 days for replies to arrive, and these often failed to include any mention of the questions I was asking.
There was also the issue of reporting. Wrike has meager reporting features and no budgeting or financial functionality at all. This, and considerable frustration with dealing with the sloppy reps at Wrike, spurred me to keep looking, and frankly I'm glad I did.
Mavenlink
I fell in love with Mavenlink after just an hour of playing with it. The UI is gorgeous, and Mavenlink is probably the best-looking of all the apps I tried. I also love the financial functions they've included, such an budgeting, costing, and the ability to create invoices right there in the system based on reported time entries. I found it unusual that they assigned rates at the team member level (with the ability to override these at the project level) rather than for services themselves, and their strict inclusion of two decimal places in all displayed price values even though the system was configured to use Japanese Yen (which has none) was diappointing.
I really wanted to choose Mavenlink. They were in the middle-to-high-end price-wise, but, considering all the functionality it offers, I thought on balance it might be worth the extra expense. Yet the more I used it I began to notice a few niggling quirks that started out small but then grew more irksome the more I used it, kind of like the way you might, on a first date, hardly notice your companion's habit of chewing with her mouth open, but then find it positively maddening years later when the two of your are married and eat practically every meal together.
Time tracking was the most annoying of these. Time tracking in an app like this is pretty much core functionality, which makes getting it right especially important. In Mavenlink, if you have the details screen of a task open and what to start logging time against you click on the Add Time button. All good so far.
However, rather than, say, start a timer then and there like all the other apps do, Mavenlink actually opens another page in a new tab and asks you to enter time manually or start a timer there. When I mentioned to the CSR there that this seemed like a rather tedious way to approach it he replied,
When you compare us up against every PM software available, there's no one that has a better time tracking and all around better tool than Mavenlink (at least from everything I've seen.) Once you log a few time entries you're going to see how fast you can start, stop and log the entry.
I can only surmise that he hasn't seen many of the other tools available today.
Anyway, if you start the timer you get a nice always-on timer display above the left navigation. Handy. But when you go to stop and record the time, it doesn't know what task you're recording time against, and so you have select the Project and Task each time. And that's just, well, dumb.
Similarly with new projects, rather than simply picking resources from a list, you actually have to email them an invitation from the system each time. That's the kind of thing you want to have to do only one time per resource. Once they are in the system you should be able to manage them more easily.
Other parts of the app are really well done, such as the Analytics (LP could learn some lessons from Mavenlink) and resource planning and allocation functions. The Fill Available Time lets you very quickly and easily fill in a team member's time based on the time available in their schedule. Nice!
Overall I think Mavenlink rocks, and it sure is nice to look at. But in the end there were too many quirks and important things missing (such as forwarding emails to tasks) for us to choose it. Maybe in a year or two I'll give them another look.
ProWorkFlow
ProWorkFlow was one of the apps I discovered late in the game, and after I had evaluated it for a few days I was convinced this was The One.
PFW is one of the few true "end to end" apps that we looked at during the review process. In PWF you can create and send quotes, convert these into projects, and then invoice these based on quoted values and/or actual logged time. This kind of functionality is typically only available in more expensive, high-end apps such as Streamtime and fp.
PWF lacks the polish of some of the other apps, but is nonetheless a great product with outstanding functionality. The only reason we aren't using it now is that I thought it would be a difficult transition for the team, as the UI is not as intuitive or elegant as some of the others', and also because of the flat "not possible" I got in reply to my inquiry about the possibility of their fixing the system to not add partial (decimal) values to price figures when the system is configured to use Yen. Mavenlink had the same issue, but at least they expressed a willingness to correct it. The folks at PWF told me it wouldn't likely change until more demand for it emerged (i.e. – never). Turns out that was a deal-breaker, boys. All that great estimation and billing functionality means very little if I can't use it. Tough break.
Teamwork PM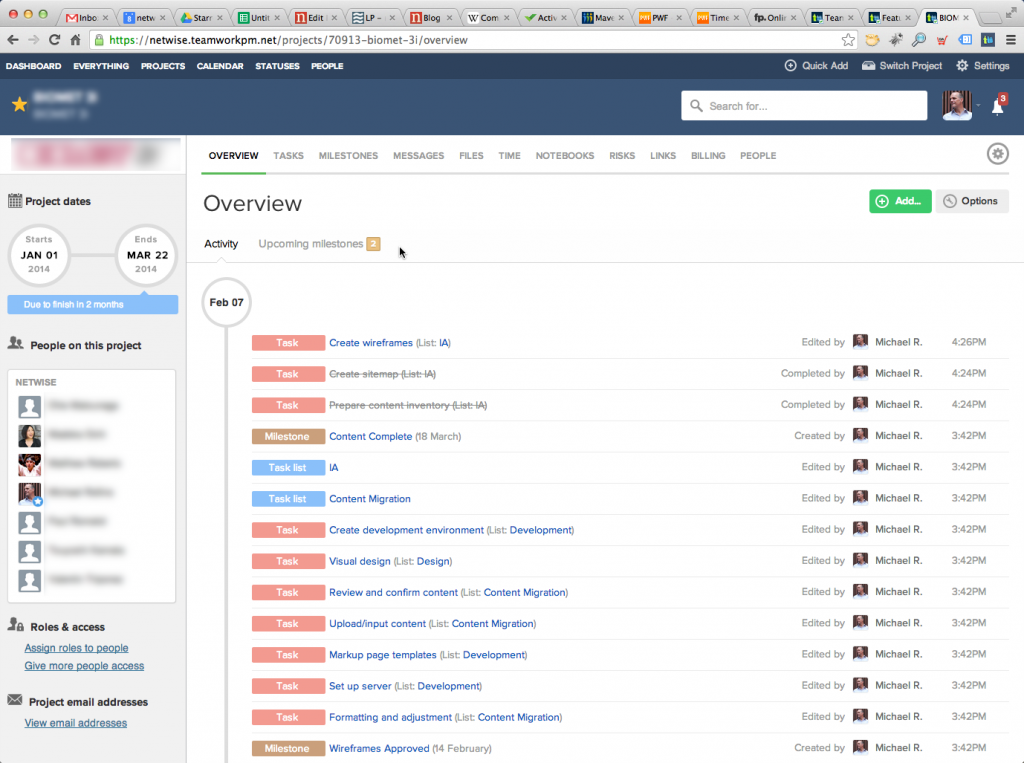 I signed up for Teamwork PM early on in the process and soon removed it from the shortlist due to (what I perceived at the time to be) a paucity of features. But I was frustrated after reviewing so many apps and not finding one that seemed likely to meet all of our needs, and so I went back to the original list and gave each a second look. I was still getting daily emails from TPM, and they stood out because they were so well-designed and professional-looking.
When I returned for a closer look I noticed some things I had missed the first time around. It's easy to miss things in TPM because the interface is so simple. The app seemed initially to be in the same class as Trigger or HubPlanner, by which I mean "a step or two above Basecamp." (Let me mention here that Basecamp was never under consideration.) However, what I found is that much of the UI is only visible on mouseover, and so there was an entire layer of functionality I had missed completely. I dove in further.
The more I used it the more I liked it. The time tracking is quite, easy and intuitive. Creating new projects is equally simple, and task list templates make it easy to create tasks for standard processes in advance and re-use them as often as you like.
An interactive Gantt chart  was added to the app recently, and it does everything you would expect it to. You can change dates and durations, re-order tasks, add dependencies and more, all within the Gantt chart. Changes made there are of course automatically reflected elsewhere in the system automatically.
Of course there are iOS and Android apps as well as a number of other nifty add-ons, such as a Chrome plug-in which integrates with GMail, and easy integration with Google Drive, Dropbox and Box.
Last but not least, Teamwork is one of the few apps out there which has been localized into Japanese, which will be a welcome change for some members of our team.
We're rolling it out now, and so it's too early to say if Teamwork will meet our expectations and help us do a better job of managing our time and projects. Watch this space for an update in 3-4 months.
The Also-Rans
I'll close with a quick summary of some of the apps that didn't make it to the finals, and why they didn't: